--------------------------------------------------------------------------------------------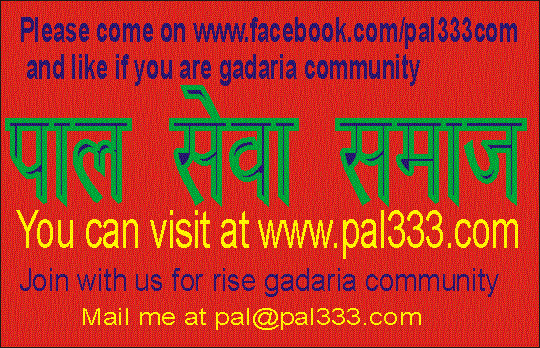 www.facebook.com/palsevasamaaj
pal, baghel, dinkar, holkar, dhangar and all gadaria samaj
some nominal charges for matrimonial
3 contact numbers free
5 contact number for Donation Rs. 100/-
If you donate Rs 500/- we will give you
free contact numbers for 1 year.
If you want to show your contact no. and full Address in your bio-data and want other contact number for 1 year you have to donate Rs. 1001/-
you can pay donation through
1. Online fund transfer in a/c
2. Send Money order.
3. Send Cheque.
4. Send Postal order.
in favour of Subhash pal
address-
Pal Seva Samaaj
c/o S. R. Modern School
C.P.J. 2nd 59
New Seelampur Delhi 110053
Contact no. 22199739, 9818744044
Bank -
Branch Seelampur delhi 110053
PAL SEVA SAMAJ
WWW.PAL333.COM